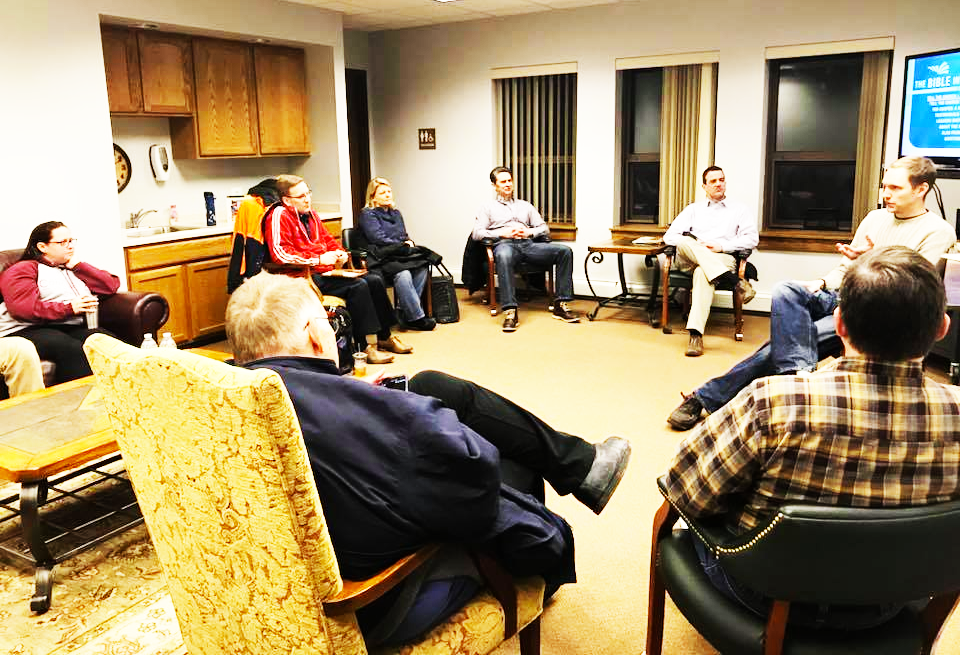 What is a Community Group?
A Community Group is an intentional community consisting of at least 6-8 people who meet regularly to pursue spiritual growth, friendship and support. It's a safe place to study the Bible, share your life, and ask tough questions.
Community Groups meet 2 or more times a month. Groups gather at a variety of places such as member's home, on the church campus, or even in a local restaurant.
How do I get connected?
Community Groups welcome newcomers throughout the year. Check out the Group List below and complete the form below to get the connection process started. Feel free to try a few groups to find the right fit for you.
Community Groups
All Groups currently meeting online.
Frequency – Tune in, hear God
Meeting on Tuesday nights, we help connect believers from any stage in life to simply and purposefully grow together as disciples. This study explores the ways that God speaks to us daily; how we can hear his voice faithfully and enter into a meaningful, fulfilling dialogue with him. Contact Doug Fry at 630-212-6337 or
dougfry01@gmail.com
for more details.
Southeast St. Charles Community
Meeting regularly, we will focus on gathering in the southeast St. Charles Community (south of 64, west of the Fox River), meeting the needs and serving in our local neighborhoods. We will intentionally serve with Lazarus House every fourth week of the month making sandwiches, providing meals, and loving their community. Contact
Keith Wollenburg
at (630) 390-5612 or
Julie Wollenburg
at (630) 390-5613.
Bible Study and Beyond Community
The' Bible Study and Beyond Group' will begin the fall session with a study on the book of Hosea. The insights gained from this portion of scripture will enrich our understanding of God and His amazing love for us, and also guide us in some type of community outreach. We meet Thursdays at 9:00 a.m. and Mondays at 7:00 p.m (your choice!). Contact
Linda Schroeder
at 630.879.5066.
Young Families Community
Meeting once a month, we help families connect to simply and purposefully serve with other families. This is a perfect community for families with young children (toddler through elementary), yet open for all ages. Contact
Jonathan and Julie Zimmermann
.
Bauer Community
Meeting twice a month, we will serve basic needs in our community through the Northern Illinois Food Bank (hunger) and Habitat for Humanity (housing). In addition, we will help people with house projects for themselves or their neighbors. Contact
Bob and Joan Bauer
.
Quilt & Craft Community
Meeting at least once a month to quilt and craft, we meet the needs and serving in our local neighborhoods. We provide handmade items for people in need both locally and around the world. Contact
Margaret Studer
at 630.207.4549.
Hemmann Community
Meeting once a month, we will share our lives in Christ, grow in His Word, and serve specific needs as Christ leads us through prayer and sharing. Contact
Gene and Sylvia Hemmann
at (630) 584-3359.
Start a Community Group
We are always looking for enthusiastic men and women of all ages wanting to start and lead new communities. If you are interested in fostering new relationships, intentionally growing in your spiritual walk, and purposefully partnering with others to meet real needs in our area, then get started by
sending us an email
describing the Community Group you would like to begin. We look forward to hearing from you!